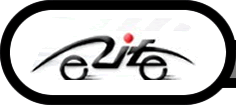 Tractor & Utility Vehicles Covers

Made of the toughest material, woven polyester, these covers keep your lawn equipment protected and ready to go when the need arises. Heavy shock cord hems are designed to keep your cover in place. Vents have been added for improved breathability for those long term storage situations. Storage bag included!
Utility Vehicle Cover
(108'' L x 58'' W x 36'' H)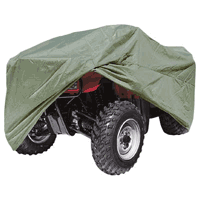 Utility Vehicle Cover
(115'' L x 59'' W x 71'' H)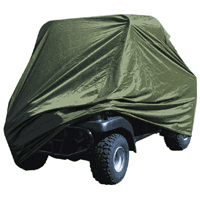 Tractor Cover
(69'' L x 39'' W x 37'' H with a 54''deck)

---
Elite Tractor Covers and UTV Covers. Covers also available for UTVs with a roll cage.

Our Tractor and UTV Covers are made from the toughest woven polyester material. They help keep your lawn tractors, UTVs or equipment protected during storage in all weather conditions. There are fully elasticized hems to keep a snug fits around most tractors and there are vents in most covers for added breathability. Tractor Cover Approx. 3lbs.